The Benefits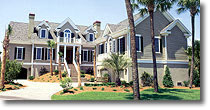 There are many benefits to the Carolina Machine Finishing process. But what is most important to new and existing home owners is to save money while achieving a beautiful look for their home's exterior. It is for this reason that, pre-priming/encapsulating your siding and other exterior products is beneficial. See how this process compares to other popular methods, such as vinyl siding. Benefits include:
A Better Paint Job
Uniform Finish on all materials, while reducing the cost of professional painters
No Lap Marks and No Shrink Lines
No Streaking and No Over-spray or Splatter
Reduces Painter Call Backs
Absolute Color Uniformity
Back Primed/Full Encapsulation, moisture protection
No Unforeseen Delays on your Project
No Weather Delays, the application is performed in a factory-controlled environment
Reduced Subcontractor Delays
Large selection of materials with turn around times of 2 weeks or less
A High Quality Job without Increased Costs
Immediate Siding Protection
Increased Customer Satisfaction
Per Square Foot Cost Savings
Less chance of on-site waste and loss
Instant Curb Appeal
Transferable 15/25 Paint Manufacturer's Warranty
The benefits of Carolina Machine Finishing are clear, as is seen by the building industry's recommendations. By installing Carolina Machine Finished materials, you will be taking the best step possible to ensure an unbeatable quality with exceptional performance.
Pre-priming/pre-finishing all building material surfaces prior to installation is recommended by:
Copyright © 2023
Carolina Machine Finishing, Inc.
Address: 4696 Franchise St.
North Charleston, SC 29418
Phone: 843-760-0029
Fax: 843-760-0266