The Applications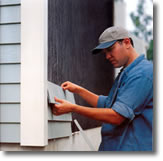 Increasing the beauty of a home's exterior is easy with Carolina Machine Finishing. The unique CMF encapsulation process is available on siding, trim, decking, flooring, railing, ceiling, and fencing materials in a wide-variety of surface types, including cedar, redwood, cypress, pressure treated pine, hardboards, fibered cement, and other natural and manufactured materials.
The application of the CMF process to any substrate gives the homeowner an increased selection of building materials to choose from while reducing maintenance and increasing the longevity of the material and the coating.
Materials that can be CMF encapsulated include, but are not limited to the following;
Siding - beveled, beaded, channeled, novelty, and standard lap
Wood - Cedar, Cypress, and Pressure treated pine
Fibered Cement - Hardi Plank or CertainTeed's Weatherboard


Trim - anything from flat stock (S4S) to innumerable dimensional profiles
Wood - Cedar, Redwood, Spanish cedar, Pressure Treated Pine and others
Fibered Cement - Hardi Trim or Plycem Trim
Composite materials - PVC, Miratec, Smart Trim, and others


Side Wall Shingles - individual shingles or panelized shingle products
Wood - Western Red Cedar, Eastern White Cedar, or pressure treated pine
Individuals - #1 Blue label or R&R, or single & triple course panels
Fibered Cement - Hardi Shingles, CertainTeed Shapes, or Multi Shake shingles Individual shakes or straight, staggered, or fancy cut panels


Soffit and Fascia - smooth, textured, vented, or solid


4' Foot panels - 4'x8', 4'x9', and 4'x10'
Wood - smooth, bead-board, and T-111
Fibered cement - smooth, textured, 8" OC, and stucco


Decking - Tongue and Groove (T&G) and eased edge materials
Wood - Pressure treated pine, cedar, IPE, and all other materials
Call our office prior to your next project to see if you can benefit from the CMF process.
Copyright © 2023
Carolina Machine Finishing, Inc.
Address: 4696 Franchise St.
North Charleston, SC 29418
Phone: 843-760-0029
Fax: 843-760-0266